Student of The Year – 2016
Student of The Year Award – This award is obviously the pinnacle within Brisbane Kung Fu and is recognition of Excellence in all areas. Usually the winner will have already demonstrated their worthiness in taking out or being runner up in several of the earlier awards.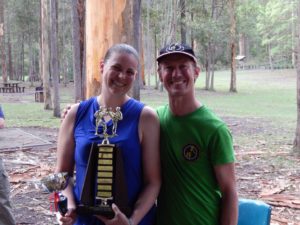 For 2015, this recipient has been well involved in all areas, great attendance, assisting with demonstrations and tournaments, well involved in social events. They are well appreciated and liked within their classes due to their willingness to assist, and friendly welcoming nature. I have received many positive comments about this student over the year and am proud to see them become a great role model. Louise, please come forward to collect your award. Louise has become an integral part of our school, including her input on our committee being insightful and tremendously helpful. While her impressive involvement this year has seen lots of personal development and growth, I think what really impresses me the most is how much she has contributed to the school itself and many of the other students. If you have benefited from Louise's interaction, make sure you give her a thank you at some stage today. Thank you Louise!

1993 – Jason King
1994 – Kevin The
1995 – Ian Taggart
1996 – Richard Nicholls
1997 – Peter Natalier
1998 – Thomas Pomeroy
1999 – Thomas Pomeroy
2000 – Cameron Stewart
2001 – Cameron Stewart
2002 – Thomas Pomeroy
2003 – Luke Marshall
2004 – David Fawcett
2005 – Aggie Kovacs
2006 – Simon Hu
2007 – Steve Sankey
2008 – Liz Gravener
2009 – Richard Baker
2010 – Nick Gallo
2011 – Vincent Constantinou
2012 – Luke Bailey
2013 – Richard Baker
2014 – Louise Lee
2015 – Louise Lee
2016 – Richard Baker
2017 – ??