Shi Xiong Vincent Constantinou
Shi Xiong Vince began training with Brisbane Kung Fu in 2008 and came with a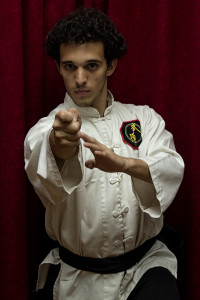 wealth of knowledge and skills gained over ten years as a professional gymnast. It proved to be an ideal preparation with core strength, flexibility, coordination, floor and aerial work already well established.
In a short time, Shi Xiong Vince has gained much experience and success in competition with numerous State and National Titles to his name. These have been awarded in many various forms and fighting categories.
Since starting, Shi Xiong Vince has had a large involvement within the Brisbane Kung Fu school, being instrumental in many of our demonstrations, camps and social events. His contributions on the BKF committee have been substantial as well with his business knowledge and photography skills.
Shi Xiong Vince is a natural coach and motivator and brings a keen eye and good biomechanical knowledge to his instruction, finding the improvement in his students very rewarding. Recent initiative sees Shi Xiong Vince teaching 5 classes per week, heading our kung fu kids program and establishing a core of young and eager students.
in 2013, Shi Xiong Vince was inducted as a Tu Dai (disciple student) under ShiGong Jason King which promises more responsibility and access to exciting advanced material. In coming years, Shi Xiong Vince would like to undertake studies in Traditional Chinese Massage.
Shi Xiong Vince's bio can be downloaded here